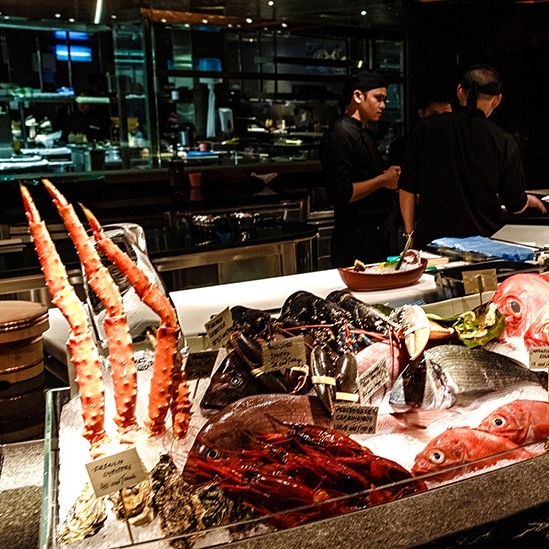 Restaurant Gordon Ramsay
We were appointed to develop the design of the kitchen for Gordon Ramsay's eponymous restaurant. Working with a client of such high standards is always a great challenge and something we relished in delivering for this project.
We are very proud to be involved with the Worlds most renowned Restaurants, having held 3 Michelin stars since 2001.
Isabel, Mayfair, London
Opening in Mayfair early last year, Isabel is the second London restaurant from restauranteur Juan Santa Cruz, who is also behind Casa Cruz in Notting Hill.
Offering high-protein, low-fat lifestyle food, Isabel is the latest hotspot for those looking to enjoy a stylish evening within the heart of London.
The expert team here at SHW Design were chosen to design and specify Isabel's kitchens and bars, to create a high-functioning, quality kitchen which would compliment the restaurants staff and accommodate the style of menu.
Client: Juan Santa Cruz
Location: Mayfair, London
Scope: Design and specification of the restaurant and bar
Margot, Covent Garden, London
Serving up a menu which focuses on classic Italian cuisine from executive chef, Maurizio Morelli, Margot is the latest venue to be welcomed to Covent Garden's expanding list of restaurants.
Margot is the first restaurant from renowned Maitre D's, Paulo De Tarso and Nicholas Jaouen, who shared a love for the restaurant industry and wanted to bring together their ideas and create their own restaurant.
Working alongside interior design firm, Fabled Studio, SHW Design were commissioned to develop the design for the restaurant's kitchen area, creating an operation which would serve up a range of brunch, lunch and dinner meals.
For this project, SHW Implementation were also commissioned to project manage the whole process as well as procure equipment from leading manufacturers at competitive prices.
Client: Paul De Tarso and Nicholas Jaouen
Interior Designer: Fabled Studio
Location: Covent Garden, London
Scope: Design, procurement and project management of the kitchen
Luca, Shoreditch, London
The Luca restaurant in the centre of London takes on a 'Britalian' style of food, developing dishes from high quality ingredients around the British Isles.
Luca is the sister restaurant to Shoreditch's The Clove Club and also boasts a bar area which serves up salads, small plates and freshly shaken cocktails.
SHW Design were tasked with design development of Luca's bar and kitchen areas, working with interior Designer, Alex Wentworth.
The equipment procurement and management of the project was also handled by SHW Implementation.
Client: Isaac McHale, Johnny Smith and Daniel Willis

Interior Designer: Alexander Waterworth
Location: London
Scope: Design, procurement and project management of the bar and kitchen
Demoiselle by Galvin, Dubai.
Working with renowned chefs and restaurateurs, Chris and Jeff Galvin we provided the lead design for the back of house and food & beverage service facilities within the 2 storey restaurant. We also worked closely with Simon Spiteri of Design LSM, the interior Designers to ensure both form and function were achieved in Galvins' first Dubai venture.
Client: Meraas
Operator: Galvin restaurants
Interior Design: DesignLSM
Location: City Walk, Dubai
Dinner by Heston Blumenthal, Melbourne
Following The Fat Duck's temporary residence, Dinner by Heston Blumenthals' 2nd restaurant opened in Melbourne within the Crown Hotel complex. Under Ashley Palmer Watts guidance, the restaurant has fast gained a reputation for being one of the best in the city.
Staying true to the original principles of historic recipes, the menu had to be researched and developed to make use of the local ingredients to Australia.
Client: Crown Resorts Limited
Interior: Bates Smart
Scope: Production Kitchen, Show Kitchen and Bar.
The Fat Duck
During the 6 month period of when 'The Fat Duck Flew South' to take up temporary residence in Melbourne, we set to work refurbishing the kitchen at the restaurants permanent home in Bray.
A brand new extension was granted and provided us the ability to completely re-think how the kitchen operated. Working alongside Group Exec Chef, Ashley Palmer Watts and Head Chef Jonny Lake, we set about re-evaluating the space.
The kitchen now provides a great platform for future culinary developments for the team in its continued food journey.
Sosharu
Jason Atherton's Japanese izakaya style restaurant, located in Turnmills Farringdon. Complimented by an 'inner' restaurant, kisetsu, serving an authentic tasting menu in discreet surroundings and & Tales, a basement Tokyo style bar.
Client: The Social Company
Location: Farringdon, London
Scope: Basement and Show Kitchen, Basement and Ground Bars, Sashimi counter.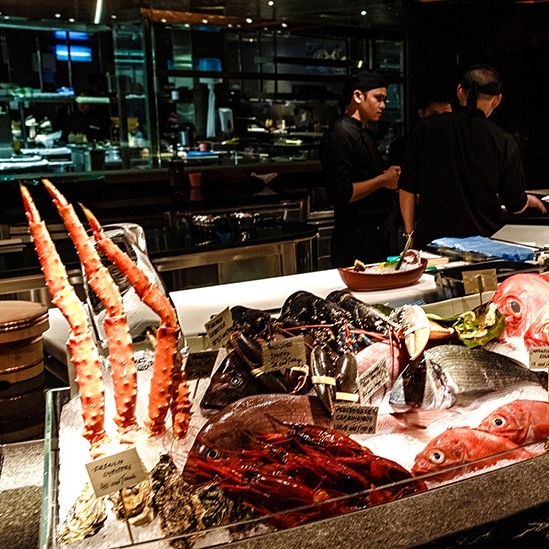 Novikov Dubai
SHW on behalf of Bulldozer Group and Russia's most famous and successful restaurateur Arkadiy Novikov have brought to life the famed London hotspot through our innovative designs for the show kitchen, large semi-circular fresh fish & fresh vegetable market concept counter and bar area.
Working closely with executive chef Jeff Tyler, SHW have understood the core values that Novikov renowned for; chic clientele, dynamic menus and elegant atmospheres. Through this close collaboration on the design for the show kitchen/fresh market counter/bar and the Arkadiy individual stamp such as the breathtakingly high ceilings and trademark interior design features Novikov Dubai has achieved its aim of becoming a stand out location in the GCC region.
The Asian inspired menu is created with a strong emphasis on the large fresh market counter where guests are invited to select their own fresh fish or vegetables to be cooked à la minute. SHW is proud to have been involved with a concept that specialises in Chinese and Pan Asian cuisine and innovates with different textures, flavours and culinary techniques from across the most diverse cultural regions in the world.
The Fat Duck Melbourne
The anticipated opening of The Fat Duck in Melbourne has happened to rave reviews in Australia. Serving a 16 course Tasting menu featuring some of Heston's iconic dishes such as Snail Porridge, Mad Hatter's Tea Party, "Sounds of the Sea" and The Not-So-Full English Breakfast it gives the opportunity for an extraordinary 20th Birthday celebration of the restaurant, a former World No.1.
During the 6 month span, tickets were sought after and a ballot system was introduced to allocate the 14,000 diners, for which a staggering 267,537 request for places were received.
We now move on with the refurbishment of The Fat Duck in Bray, wish the team in Melbourne well, and look forward to welcoming them back home in September.
Client: Crown Resorts Limited
Location: Melbourne, Australia
Scope: Production Kitchen, Show Kitchen and Bar.
The Perfectionists' Cafe
SHW worked with The Fat Duck executive chef, Ashley Palmer-Watts, to develop the designs for Heston Blumenthal's new restaurant, The Perfectionists' Cafe at Heathrow Terminal 2.
Opening on June 4th, when the state-of-the-art terminal begins operations, Heston's restaurant will celebrate the best of British, serving the nation's favourite dishes.
An estimated 55,000 passengers will arrive and depart from the terminal every day, so SHW's kitchen and foodservice area will need to enable restaurant staff to deliver top-flight cuisine, quickly and efficiently.
Winner of FCSI EAME Region Design in Excellence Award 2015
Photograph by David Griffen.
Dinner by Heston Blumenthal
Heston Blumenthal is known for his big ideas – and Dinner by Heston Blumenthal, his new restaurant in London, is no different. "When I was designing the kitchen," he says, "I was like a little kid going 'I want one of those, and I want to put it over there – upside down'." Gareth Sefton from SHW was charged with making sense of it all. "I sketched it all out on a piece of paper," says Heston. "But Gareth was the one who had to make it a reality."
Head chef Ashley Palmer-Watts was also involved in the design process, which he says was a dream come true. "Heston and I created the dishes from scratch – and then set about creating the perfect place to cook them."
As part of the design process, Gareth went to work at Heston's Fat Duck restaurant. "He needed to understand what we were doing – the workflow," says Ash. "So I was with him saying, 'This is what I mean by sous-vide'. He got to know what I needed. And, when it came to designing the kitchen, it meant that he could ask the right questions."
Winner of FCSI EAME Region Design in Excellence Award 2011
2 Michelin star.
Bar Boulud, Mandarin Oriental
SHW was appointed to develop the design for London's Bar Boulud from concept through to completion and handover, working closely with chef and restaurateur Daniel Boulud and his team, alongside David Nicholls, Mandarin Oriental's Corporate Director of Food & Beverage.
Bar Boulud is a refreshingly relaxed bistro in the heart of stylish Knightsbridge. The restaurant has capacity for 169 covers and also has two 16-person private dining rooms. The open kitchen provides a stunning backdrop to the Tihany designed dining room, with feature glass food display case.
La Serre Bistro and Boulangerie
SHW has brought Parisian chic to Dubai with its designs for La Serre Bistro and Boulangerie in Down Town, working closely with chef Izu Ani (formerly of La Petite Maison).
The street-level boulangerie offers a mixture of hot and cold food, including pastries and bread.
Entering the Bistro via a dramatic staircase, diners can sample French cuisine while taking in amazing views over the Burj Khalifa and downtown Dubai. The restaurant seats 124 guests and features a stunning bar and private dining area. SHW's design includes a chef's cold station and a hot kitchen.
From Doha to Knightsbridge
SHW has been instrumental in the successful launch of Chapati & Karak in Knightsbridge, London, which follows in the footsteps of the acclaimed café restaurant in Qatar.
The SHW-designed kitchen is small and simple, in keeping with space restrictions and the restaurant's simple menu. The partially open kitchen caters for 44 covers and has concealed mechanical, electrical and drainage services to make the kitchen more aesthetically pleasing and easier to keep clean.
The Delaunay
The Delaunay, in London's Aldwych, is SHW's second project with Rex Restaurant Associates, run by restaurateurs Chris Corbin and Jeremy King, who were both awarded an OBE in the 2014 New Year Honours list.
It consists of a 170-seat restaurant, two private dining rooms and a takeaway and deli counter. The challenge for SHW was to create a restaurant kitchen in the basement capable of handling up to 1,500 covers a day. To keep food hot between kitchen and restaurant, SHW specified equipment such as Winston Industries' Hold & Serve drawers, which Gareth describes as "a massive leap forward".
SHW will also be working on Rex Restaurant Associates' upcoming ventures.